RE: Ben Moore Anime Watch List
From Ben's already watched list, I can see he has already tasted some of the greatest Animes, this world has received.
So these are some anime series/films which have themes in common with these.
Neon Genesis Evangelion: Mechs action, mature, psychological thriller, big character build ups and progressions, a near flawless mix between science and religious mysticism. One of the very greatest series ever to bestowed upon the anime world, the rebuilds are in general shit though, not on their own, but when compared to the original series.
Claymore: Mature, demons, knights, very gory slasher, high battle action, super natural powers, deep character progression, anti heroes, similar to Berserk in the sense of long two handers, anti heroes theme, and lots of gory battles/blood baths. Series moves in grey zones a lot. Get ready to see limbs fly.

Darker Than Black: Mysterious, mature, anti heroes theme, thriller, HUGE character progressions, supernatural powers, a pinch of detective stuff involved. The world is past a giant disaster, contractors are human beings who lose their sense of emotions, and gain super natural powers, used by agencies around the world of underground syndicates. The world is dark, and full of terrors. Main lead is searching for his sister, while being the perfect liar and killer, although he hasn't really lost all human emotions, but not everything is as it seems. There are humans who are dolls, who aren't really there any more, in their bodies, they can wander of in electrical currents or through water in a sense of spirit form, very docile, emotionless, and most humans see dolls as tools, rather than other humans. DON'T WATCH SEASON 2!!! real end was with season 1!!!
House of 5 leaves: mature, samurai, ronin, action, plot, deep character progression, psychological, anti heroes. A pretty underrated series, with a different art style, which is quite unique in it's own way. The story is simple, we have a swordsman who needs work, and when desperate, willing to work for the strangest things.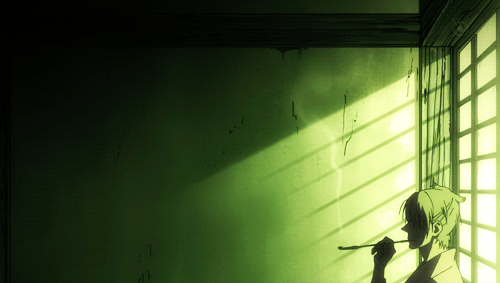 Movies - Mini series to consider:
Sword of the Stranger: One of the best sword combat/fight animations ever! Mature, action, sublime combat fights, dark, gory, age of ronin. If you liked Samurai Champloo, ninja scroll, ninja gaiden, samurai stuff, you have to watch this right away!

Afro Samurai: The guy behind this, is also part of making the new game Furi , so you gotta watch this before playing the game! Same as Sword of a Stranger, simply gorgeous battles and dark progressions, gory as fark.

posted in General Discussion